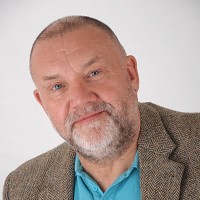 Some years ago my partner, who was already qualified as a massage therapist, decided to retrain as a canine massage therapist. During the course, I found that I was picking up lots of massage skills by proxy – actions and insertions of muscles, massage techniques, benefits, physiology and more. Rather than compete, I decided to train as a human massage therapist. So now we offer AchyPaw Remedial Massage for Dogs and Massage by Chris for humans (and sometimes the owners of the four legged clients). Our combined Facebook site is here : https://www.facebook.com/achypaw.
Since my own qualification as a Holistic Body Massage Therapist, I have undertaken several other courses including Reiki, Deep Tissue, Hands Free Massage and Animal Healing.
Interestingly there is a cross-over between the two disciplines – I've found human techniques working very effectively with animals and my human clients enthuse about having skin-rolling on their backs – a technique I learned from my partner and canine massage courses I've attended!
In addition to my regular clients, who I see in my treatment room, I have taken part in supporting events as part of therapy teams: these include The British Heart Foundation London to Brighton Trek, The Brighton Half Marathon and a Local Council sponsored Therapy Day for 'older people with HIV'. Last year I heard of a local organisation which was looking for therapists to volunteer to offer a variety of therapies at a hospice to patients and carers affected by HIV, AIDS and associated conditions. These days are twice each month and the clients are offered a range of therapies: holistic massage from myself plus other therapists who offer hands-free massage, Reiki and hypnotherapy.
I find those sessions incredibly fulfilling and the same is reported to be true also for the clients – the service feeds back to the therapists after every session.
There is plenty of evidence based and empirical research concerning the value and benefits of massage to patients with HIV (see Appendix for a couple of examples). These and other articles conclude that massage therapy can play an important role in the lives of those infected with medical conditions as well as HIV and AIDS by complementing their existing medical team and regimen. Specifically in relation to HIV/AIDS, massage therapy can help the patients cope with the various symptoms of, and also indirectly boost, the immune system.
One of the reports evaluated several other studies across a range of age groups and across the disease spectrum from early HIV through late-stage AIDS. These studies reported they found that massage therapy significantly improves self-perceived spiritual quality of life and improvement in total quality of life scores. One study even found positive changes in immune function, in particular CD4+ cell count and natural killer cell counts, due to massage therapy.
Time and again the common theme I've had reported back from the group I work with is that the clients I have treated, during these volunteer sessions, really valued actually being touched. Although HIV and AIDS does not have the same media presence these days (long gone are the scaremongering adverts of the falling tombstones) the stigma unfortunately still exists. I treat each client as I would do any client adjusting my therapy appropriately to their physical condition. (One in particular sticks in my mind – the client had a 'frozen shoulder' and had been suffering with it – the next therapy day they were demonstrating the 'new' range of movement they had achieved since 'Chris fixed it!')
I am very grateful for the opportunity to be part of a team who can help enhance the quality of life of people living with, caring for or affected by HIV/AIDS – the physical and psychological realms, by providing the personal touch other therapies do not generally provide.
Appendix
Cutler L (2006). "Massage Therapy for HIV/AIDS". https://www.integrativehealthcare.org/mt/archives/2006/12/massage_therapy_1.html [accessed 25th September 2015]
Gnanakkan J (2005) "The Effects of Therapeutic Massage on HIV and AIDS Patients" Massage Today September 2005, Vol. 05, Issue 09
Hillier SL, Louw Q, Morris L, Uwimana J, Statham S (2010). "Massage therapy for people with HIV/AIDS" https://www.ncbi.nlm.nih.gov/pubmed/20091636 [accessed 25th September 2015)