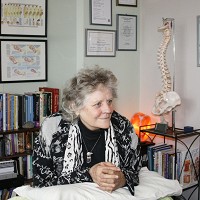 The Cotswold Directory -march/April/May 2018 issue page 28
What is CranioSacral Therapy?
Millie Wood Swanepoel RCST
(Registered CranioSacral therapist)
It is not "a sort of head massage"
It is not just for mothers and babies but for everyone cradle to the grave.
The way I work, I think of it as body psychotherapy. Cranio works with the whole body, not necessarily just one aspect, to resolve the cause and effect of the imbalance/dis ease.. Mindful touch provides fertile ground for the mind, body and heart to make its own adjustment at its own pace and reconnects you to your reservoir of health and vitality.
Given the right conditions it is through the body we find our own self that can take us beyond the body.
What do I do?
I listen, with my hands. Responding to light touch, the body will show patterns of imbalance in the system. I facilitate the body to readjust, realign to a healthy way of being. I cannot do you any harm because I am not doing anything to you, just listening to your intelligent body expressing itself and encouraging it to resolve or work through what it being held in cellular memory..
We have intellect and we have intelligence of the body, one cannot exist without the other, but they have to be in balance.
How does Cranio work?
I work with tissue, fascia, fluid, nerves, cranial nerves and bones. Your body may engage on a catalytic level which we call unwinding. It may choose to work on a deeper emotional body level to deal with low self-esteem, grief, depression, anger, anxiety and/or many other subtle body/mind possibilities.
How can CranioSacral therapy help you?
The body never ceases to amaze me in its ability to healing itself and how it can help manage pain and restore itself after trauma, operations, births, accidents injuries, stress, anxiety, emotional and mind issues - if you give it the time, attention and space and a little help from empathetic touch
Results
I would like to share a few Conditions I have worked with:
1. A phone call from a young man N from Berkley who had been suffering from cluster migraine headaches since he had a car crash resulting in whiplash. The migraines were very bad, day and night; he was on heavy medication and unable drive or work. After his first session the daytime headaches had eased nearly disappeared, the second session the night migraines had disappeared. The third session confirmed that he was able to get back to work and migraine free. What a result for both of us.
2. A professional musician in London suffered from a niggly ankle which stopped him playing and enjoying his recreational soccer. During our sessions the body flagged up he had sprained his ankle many years ago. After a few sessions he was rewarded with a very swollen, black and blue ankle which kept him on his sofa and of work for a week. After that cellular memory experience he never had any problems with his ankle.
3. And then there were the babies telling their stories of how their birth was for them, so their families can see and share their experience. Amazing almost unbelievable work.
Tension and relaxation is natural, just like night and day, the inner and the outer.
Our senses are stimulated daily through TV, radio, computers, mobile phones etc. which may create permanent stress and possible consequences like back/neck problems, headaches and anxiety. Since these demands are unlikely to diminish we need to find ways of being with ourselves and our stresses by supporting our bodies.
All I ask is that a client comes with an open mind and heart and patience for the journey we will travel together because I believe this is a joint practice.
How it makes me feel
I have had many mind blowing, unbelievable experiences with clients that thought there was no hope, full of despair, depression, grief, dealing with transplant knees, hips and organs.
I work with trauma, physical, emotional and mental. It can be a slow process for our impatient, click of the button society. The Cranio work depends on the client ability to work with what comes up for them but the end results are worth it. The journey is often part of the work that needs to be done… To see the smile of relief, is a joy and it's brilliant to be part of!
I know it has been a good day…
When my clients leave more aware of their bodies and self; they feel they have been heard physically and emotionally; when they are inspired to take responsibility for their own well-being.
Why not have a go and step into the CranioSacral world with me if you sense it may help you…
I work alongside counsellors, psychotherapist, homeopaths and other therapies.
Craniosacral Therapy is complimentary to medial practise.
I am fully insured and paid up member of
The CranioSacral Therapy Association
Appointments available at The Old Convent in Stroud
GL5 4AD
On Tues Wed Thurs Afternoons and early evenings
I run a Clinic in Streatham, London once a month.
07754182082