Contact Tuba
Visit Website


Tuba Mutlu
, Clinical Pilates
- London
Contact Tuba
Website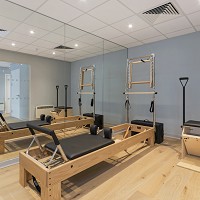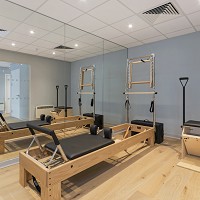 I am a fully qualified pilates teacher, who's training includes contemporary pilates training and as well as being trained by Alan Herdman in rehabilitation style. I have over ten years of teaching experience at various physiotherapy clinics and studios such as Physio In The City, Little Venice Pilates and Physio for All Chelsea. My own journey with pilates started, whenI experienced debilitating back injury as a teenager. As pilates helped to overcome the effects of my own injury, I decided to embark on a journey to help others. I have a great understanding of both physical and emotional effects of an injury and encourage my clients to embark their pilates journey though correct movement technique and alignment.
​
Background & Qualifications
--- ACADEMIC ACHIEVEMENTS ---

* Alan Herdman Teacher Training 2009 - 2010

* Peak Pilates - Level 2 Pilates Instructor Training 2008 -2009

* Peak Pilates - Level 1 Instructor Training 2007

* London College of Fashion :
BA (Hons) Costume and Make up for Performing Arts 1998 -2001

* Chelsea College of Art and Design:
Btec Diploma in Fashion and Textiles 1997 - 1998


---EXPERIENCE ---

LITTLE VENICE PILATES
February 2016- October 2016

* Teaching one two ones, duets on various studio apparatus.
* Teaching small mat classes up to four people.
* Adjusting exercises to the client's need and ability.

LONDON CITY PHYSIOTHERAPY:
January 2016-

* Cover teacher: Teaching beginner and intermediate/advanced mat classes up to six participants and modifying exercises to the individual when needed.


PHYSIO FOR ALL CHELSEA:
January 2016- January 2017

* Pilates Teacher: Teaching 1:1 and 2:1 rehab clients on mat using various props.

PILATES CENTRAL:
December 2015- March 2016

* Teaching private clients with various injuries on various studio apparatus in a busy studio as well as covering classes.


THE PILATES ROOM:
May 2011-

* Teaching both rehab patients and able bodied clientele on various studio apparatus including mat, reformer, cadillac and chair.
* Adjusting and modifying exercises to the client's abilities and injuries when needed.
* Instructing and managing one to one classes, semi classes and group classes up to six people on equipment.
* Experienced in working with postural problems as well as general injuries.
* Attending weekly training for Pilates teachers.

NOVO PILATES:
November 2013- November 2014

* Instructing small group classes on reformer up to four people and adjusting exercises to the individual's level when necessary
* One to one pilates teacher working with general injuries.

PHYSIO IN THE CITY:
Nov 2008 -June 2011

* Acting in the capacity of instructor for Pilates classes
* Promoting the benefits of Pilates for medical and physical conditions.
* Leading group training sessions or liaising on a one to one basis.
* Building rapport with clientele and carrying out full needs analysis to ascertain programme for fitness and injury improvement.

COVER PILATES INSTRUCTOR
2007-2008

Virgin Active, London

* Taught drop in sessions for mixed level students.
* Adapted and modified techniques for client requirements in terms of beginner, intermediate.

Fitrooms Health Club

* Taught small group mat classes.


David Lloyd Fulham

* Teaching large group mat classes and small reformer group classes.

Seymour Centre

* Taught large group mat classes.

Personal Pilates Instructor
2007 -

My Specialisms
I work with clients who have general back pain, disc related issues, knee problems and elderly clients.
Approach to Therapy & How I Work
As each individual is different I like to adjust the exercises to the individual's level and ability. First lesson will be about understanding how the body moves with basic exercises and I like to plan further sessions according to the clients needs and postural issues.


Therapies & Rates
Please note the rates detailed below are there to give you an idea of the therapists standard rates, we strongly advise you contact the therapist for more detailed rates and any offers they may have.
| | | | |
| --- | --- | --- | --- |
| Therapy | Appointment Type | Rate | |
| Clinical Pilates | In Person | £50 per 60 minutes | |
Contact Tuba
Website