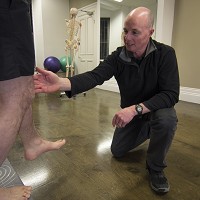 Rob Leckie Msc, Bsc (hons), Bphed
Physiotherapist in Sheffield
Remedy Physio is based at Remedy House at 24 Wilkinson Street, Sheffield. A grand and modern clinic which benefits from ample parking, full disability access, plus a large rehabilitation gymnasium.

Our physiotherapy staff are highly experienced physiotherapists, registered with all major insurance companies. We also have specialities including sports injuries, spinal treatment, the management of headache, shoulder, elbow and wrist and hand specific injuries. We firmly believe in expert patient-centred physiotherapy and 'hands-on' treatment and rehabilitation.

Remedy Physio are partners in the One Health group PhysioNet Plus, which offers expert physiotherapy management for post-surgical conditions in the Yorkshire and Derbyshire regions.
Background & Qualifications
Qualifications
Rob is originally from New Zealand. He is a qualified secondary school PE teacher, with a degree in Physical Education and a Diploma of Teaching. He completed a physiotherapy degree at Nottingham University in 1995 and an MSc in Sports Injury and Therapy in 2001 after significant work experience.

Experience
Rob has extensive experience treating athletes up to elite international level competing in multi- sport events. He worked with the GB athletics team at the 2003 World Student Games in South Korea, with Team England at the 2006 Melbourne Commonwealth Games, and within athletics at the 2012 London Olympics. He has worked in the NHS and private practice, including two years in musculoskeletal outpatients and orthopaedic inpatients, and time at the Northern General Sports Injury Clinic and The Sheffield Centre of Sports Medicine. Rob has also lectured at the University of Sheffield, teaching physiotherapists, sports scientists and doctors on the MSc Sports Medicine course. He has worked at an Advanced Physiotherapy Practitioner level in musckuloskeletal and spinal conditions.

Interests
Rob had a long career in competitive hockey, playing for New Zealand Universities and at a National League level in England. He enjoys staying fit by running and participates in half marathons and 10km runs.
Approach to Therapy & How I Work
All of our physiotherapy staff are highly experienced physiotherapists and some are registered to practice acupuncture. We also a specialist centre for the treatment of Headache, Shoulder and Wrist and Hand.

Manual Therapy
Our central technique. Various philosophies of treatment will be incorporated within the joint and soft tissue mobilization and manipulation techniques used. For instance, the Mulligan concept is a manual therapy that enables recovery from joint disorders. It involves the therapist delivering a pain-free series of techniques, often undertaken in weight-bearing postures such as sitting and standing, to realign joint position, restore movement and encourage pain relief.

We offer a wide range of treatments, including Shockwave treatment and are experts in the management of sporting injury.