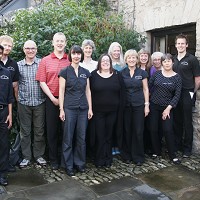 Physiotherapy at the World Transplant Games
Posted by Alison Bloxham 1666 Days Ago
The World Transplant Games will be taking place in Mar Del Plata, Argentina from 23rd to 30th August, involving approx 1000 competitors from over 50 countries. During a week of intense competition in a variety of different sports, the UK Team will aim to top the medal table once again – something they have done at every World Games since its inception! At the last Games in Durban, South Africa, the UK team walked away with 114 Gold medals, 74 Silver and 55 Bronze – a monumental achievement which earned the UK Team the overall award for most successful Team of the Games with the most medals per competitor. Supported by the International Olympic Committee, the World Transplant Games represent the largest organ donor awareness event in the world, featuring a seven day series of sporting events.
The aim of the Games is to help raise awareness of the ongoing need for organ donors and encourage people to sign up to the Organ Donor register. The Transplant Games were developed by Transplant Surgeon Maurice Slapack, and have been staged annually since 1978. Originally an international event welcoming teams from France, Greece and even the USA, the British Games now see teams from hospitals across the UK come together to compete annually.
Alison Bloxham, owner and Practice Principal at Kendal Physiotherapy Centre Ltd has accompanied the British Team to the last 7 World Games, and this year will be heading a Team of 2 Physios and 6 Sports Therapy students to support the 120+ British athletes. Alison says "I am proud to be associated with this amazing group of inspirational athletes who have overcome great adversity and gone on to represent their country. All of them have embraced their gift of life wholeheartedly and provide me with a wonderful and humbling experience assisting them to reach their potential."
Alison also heads the Physio volunteer team at the British Games and recently returned from Gateshead where the British Games took place this year. This involves putting in place the Physio support and coordinating the dozen or so volunteers over the course of the 4 days.
"These next few weeks will be a hectic time for those of us involved with Transplant Sport but we will see the best of competition in the best spirit of sport. It is a wonderful celebration of life and everyone taking part is a winner before they even compete. It never fails to inspire."
Kendal Physiotherapy Centre is proud to be associated with the Games and thanks all our patients for their support both in the fund-raising for the event but also their patience whilst Alison is away!