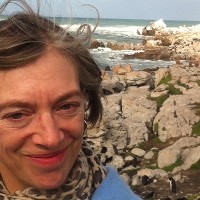 Yesterday was a gorgeous day, today lovely parts and sad parts. I walked through Hermanus for an hour and a half, stopping to gaze, as a mother and calf whale swam lazily down the bay from opposite my bedroom window to the end of town, magical and healing. The Cafe on the Rocks ( as in my writing) served me the most gorgeous salad for lunch: barley with beetroot, butternut and feta. But the herbs and oil made it divine, if I go back I'll get the recipe, Perfectly made. Drove through a troop of baboons on the way home, grazing.
Hermanus is a lovely, soft, quirky good sized town, sea and whales in front, mountains behind, a couple of hours from Cape Town and with a brilliant, and friendly, art community. I've just been round 12 galleries on their "first Friday" open gallery event, wine and scummy food very tempting. This evening I nibbled up loads of spinach and celery left at the last gallery realising I'd not eaten greens for a while. I've been living on avos (at 10p each!) in the evening, currently with mango pickle, an acquired taste I imagine, and olives.
I wrote this quickly this morning, note Werner, another plus for Hermanus, he suggested we get married by the way, and swap residencies….
Transition, Whales and Baboon Reprise
Thursday 4th September 2015
My iMfolosi trail was sad albeit potent this year: alchemical, and thats always tough. The gold is beginning to show, in fact I see diamonds glittering, more than I could have imagined. On Wednesday still feeling soft and confused and with a deep sense of loss, I stopped by Frinche's hair studio for a trim. I met the lovely Werner Pretotius. He was warm, reflective, a little round and a little uncertain, with little bursts of excitement and moments of sadness. A very big hearted good guy, and the contact lifted my heart and my spirits. And the cut cost £8!!
I walked and walked and walked, walking through my process to come to clarity, along the cliffs here among stunning coastal finbos, an eye open for whales. And how gorgeous! Glimpses of joy as I watched a calf whale breach, over and over, sleek and exuberant, what a way to enjoy lunch!
Yesterday, driving to Goose Bay, I noticed a baboon prowling round a home, and enjoyed the reality of a different daily existence. Not that I am blind to the chaos baboons can bring! I like the real life of wrestling: how do we truly live along wildlife? and I am grateful when they challenge us, by simply being themselves, to remember we live in a wild world, that we lose touch with at the peril of our hearts and souls. (An updated version of my baboon story copied below so you'll see what I mean!)
At Goose bay, I watched whales for half the day, sitting at Cafe on the Rocks. A teenager drifting peacefully in front of us while I lapped up Birkenhead hand crafted larger and fooled myself into thinking lumberjack date and apple pie would be healthy: a scrumptious cake with, yes, chunks of soft apple, but gorgeous buttery icing too. A real treat. Later I drove around the bay to the spot where a mother and calf were turning, flippers and tail slicing and flapping through the waves, the baby breaching sometimes, an exquisite youthful body, contrasting with the mother's magnificent crustiness. Every time I saw the mum's huge mouth reach out of the water I was moved to tears.
Driving back I picked up hitch hikers, passing a long line of them I saw the first was a woman on her own, so I turned around and stopped for her, thinking a woman alone would be safe. She came with a young bloke, it turned out, huh.We didn't play that trick in my hitching days, 40 or so years ago! I decided to risk it, put my bag in the boot, and was glad. The woman seemed hard to me, I preferred the energy of the young man in the back, but I felt safe, and she offered me money, which I refused of course, but I appreciated the respect. I felt glad, the experience brought me back into the real world, not just the pretty heaven of Hermanus as the town I guess appears to tourists.
I saw my first dassie ** on the drive back into Hermanus, dashing across the road. I've been mulling over the lack of dassies, as two years ago they were swarming over and in the rubbish bins. The bins are still open and so an easy temptation. I have that uncomfortable feeling maybe they've been culled. I might just check.
Later, unintentionally, I walked the back streets of Hermanus. Past medi centres and the hospital, through what seemed to be an industrial estate, and modest residential streets. A black family from whom I asked directions warmed me to stay safe and keep my mobile out of sight, which saddened me. Hermanus is a pretty, arty, lively but peaceful town, and relatively crime free. Unintentional notwithstanding, walking the back streets is something I need to do everywhere I have a relationship with, very grounding. Although I'd always have a pang for KZN, Hermanus is the South African town I would most love to live in.
Still excavating from the alchemical cauldron, but I can see clearly now. This morning I have a magnificent sea view from my room, and feel lucky.
Ah! Three daisies from my bedroom window, thats better!
** I describe daisies in my writing here from 2 years ago, post Call of the Wild iMfolosi trail, if you want a reminder.
Whales!
An August Afternoon in Hermanus, Western Cape, South Africa, 2013
Imagine.
Warm sunshine.
African rhythm meets steel band, a group playing mellow playful music on the brilliant green, grassy cliff edge.
Waves of the icy Atlantic Ocean crashing noisily and white, bringing salty stickiness into our nostrils and onto our skin.
Dassies, animals looking like huge gerbils with dog like muzzles yet closely related to elephants, rustling in wooden litter bins eating things I'm sure aren't good for them.
Happy looking people focusing on the sea.
Sitting on honey coloured rocks jutting into the ocean, feeling joyous calm rise up in me. Tell tale lines of shiny charcoal grey and slivers of white foam subtly different from the natural movement of the sea stirs a knowing in me. Watching closely, heart beating hopefully, sure enough, as waves part whales emerge fleetingly. An abundance, maybe six visible in Walkers Bay.
A breach! A magnificent head emerges clear of the water, the pinky-grey rough calecites bringing home to me their individuality. A huge heart beating inside an intelligent being and I wonder if a whale thinks and how it feels. Glad and relieved they are no longer hunted here.
Now a mother and calf. It is calving season. The baby breaches over and over, perfect half circles of playful beauty.
Later in the afternoon I hear them moan. I am in heaven.
Baboons Updated
From my holiday in a Hluhluwe chalet with Jo Roberts (friend and from the Wilderness Foundation UK) in January 2015
Baboons have learned how to lift and slide the french windows, and we came home one day to fruit strewn over the floor: the housekeeper had come in and got the baboons out, and re closed the door, but had accidentally shut some baboons in my shower room! Jo opened the door, and a baboon was standing there, she got a shock and we chuckled, left the door opened and he left. I went in to start peacefully cleaning the chaos and baboon poo, the particular pungent stench of which I swear I'll recall to my dying day. I look up and two pair of eyes fix on me from the top of the shower! My two baboon guests were utterly frozen, and given baboons have canines longer than a lions and we were in a confined space I exclaimed loudly and left like a steak of lightening! The baboons were slower to leave. One I persuaded by knocking on the window from the outside, the other we left to get himself out in his own time, but he seemed to be a frightened fixture, so Jo took control. She stationed the housekeeper at the entrance to our downstairs bedrooms, me on the stairs to the upstairs living area, both holding towels. Your guess as to their purpose as good as mine, in the event we waved them about whilst collapsing in giggles! Herself near the bathroom door and playing the noisy big-fellow. Well, it certainly had an impact, the terrified creature leaped over my head and onto one end of the 12 foot long curtain rail, one end of which promptly plummeted to the floor, the baboon more or less sliding down and catapulting himself out of the french doors.
I am always in that tension between hilarity, empathy for the terrified baboon, and stark reality when I think of this story.
The sadness to this, for me, is that rather than simply baboon proof the chalets: the "lock" was a single shallow bolt easy to shift: the chalet locks are left unfixed, the baboons get blamed, and likely culled. Which makes me angry, so much to do in the world to help people live with wildness, and whilst I can understand (and stay angry and feel the heartache at the same time) the desperation that leads to lion and even elephants being killed when they kill or damage crops and therefore livelihoods, this seem ignorant, in its literal sense, but unnecessary and lazy too, so is somehow even more heartbreaking, as well as common all over the world. Even in the UK when we don't have much wildlife that "invades our space"!
Copyright Paulina Slater 2015