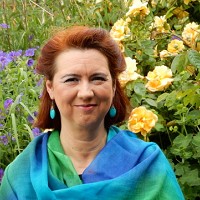 150 Years since the Birth of Reiki's Founder Usui Sensei
Posted by Kate Jones 1809 Days Ago
On 15 August 1865 a Japanese man named Mikao Usui was born and all over the world people are celebrating this anniversary. Like so many others, I am constantly grateful for the miracle of his discovery of this wonderful healing method we call Reiki. He developed a simple, accessible way for any human being to have healing in their own hands by connecting with Universal Life Energy that surrounds us, no matter where we are on the planet. All we need is the willingness and commitment to learn his method or receive treatment.
Having spent many years travelling and searching for the answers to deep questions of faith, he finally made his discovery late in life. He overcame many difficulties: we are fortunate that he didn't give up! He taught a few hundred students, all of them Japanese. One of those students, Chujiro Hayashi, agreed to teach a Japanese American woman from Hawaii. Her name was Hawayo Takata and thanks to her Reiki is now practised on every continent of the world.
It's interesting to think about how different the world is today than it was 150 years ago. Mikao Usui was born into a Samauri family just after the Meiji emperor was enthroned. At that time the emperor was seen as a deity rather than a political leader. During Usui's lifetime Christianity was re-introduced to Japan, having been outlawed for centuries. We are told that Usui was inspired by the stories of the healing miracles performed by Jesus, prompting his long search that resulted in the discovery of the Reiki healing method. When he travelled to America he wasn't able to catch a plane, but would have sailed there. The telephone wasn't even invented until he was 11 years old.
Usui, we are told on his memorial stone in Tokyo, "wanted to make it possible for many people in the world to be able to experience this joy of healing". I often feel when I look at his picture that he is very pleased with how Reiki has spread around the world and is now practiced by millions of people of many different nationalities, colours and beliefs.
I'm very grateful for Usui Sensei's dedication, because his commitment has resulted in a healing method that is very easy for us to learn and use. In other hands-on healing methods it is often the student themselves who has to go through many challenges to be able to heal. Usui Sensei offered us a clear path: all we need to do is decide to practice and learn from Reiki itself.
As a Reiki master who has been practising Reiki for over 25 years I have much to be grateful to him for. I'll be celebrating Usui Sensei's birthday with a self treatment, thinking of how we are told he discovered he could heal himself after injuring his toe. I'll also be teaching a Reiki class and sharing Reiki with other Reiki students. On a hill in a corner of Shropshire we will be practising a healing art that would not have existed were it not for the life of a man from Japan that we would otherwise have had no connection with: awesome!
What is even more awesome is the potential Reiki has for making this a better world. If it can spread and grow so much in less than 100 years, what will happen in another 100? Could Reiki bring to the world more of the kindness and compassion we crave? Could it change how families and communities relate to each other? I believe this is possible with Reiki practice.
Thank you, thank you, thank you Mikao Usui for bringing Reiki healing to our planet!